A couple years ago when I started getting fat (OK, it was already past that point) I went to Target in search of a workout video. What I came home with was 45 minutes of pure hell, better known as
Billy Blank's Tae Bo cardio DVD
.
I excitedly opened up the package and popped it in the DVD player. I put on my workout clothes and started up.
Eighteen long and excruciating minutes later I was DONE! I couldn't breathe and my ass muscles were threatening to quit working on me, so I turned off the tape and took a shower. This continued on in the exact same manner for three days. The DVD never saw the inside of my DVD player again.
Until last month, that is.
Still fat, but obviously much stronger this time around, I was actually able to complete the entire workout. I did the cardio a number of times for a couple weeks.
One day I opened my front door and stepped on the metal sweeper part at the bottom, slicing open my foot and taking off a chunk of skin. That was two weeks ago and I just started walking normally a few days ago.
Today I popped the DVD in to give it a whirl (did I just say whirl? nerd.). Twenty minutes and I thought there was no way I was going to finish. I paused the video (not ready to give up, but just needing to catch my breath) and restarted it a few minutes later.
I did end up finishing the video, but when I started the cool down I was shaking so much that I just had to lay down. My cool down today consisted of laying on my bedroom carpet and concentrating on NOT dying.
Billy Blanks,
You rock my world and kick my ass. I love you and I hate you all in 45 minutes. I am going to stick with you for a while though.
See you tomorrow my new friend,
Paloma
PS I still totally have a crush on Bob Harper, so I may need to rotate his workouts in couple times a week. m'kay?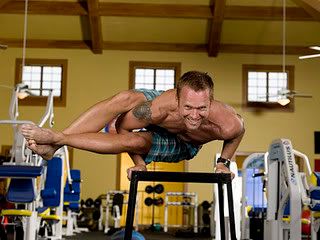 All photos courtesy of photobucket.